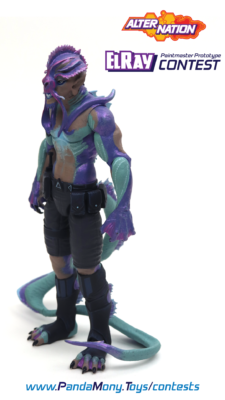 2021 Agent Recruitment Program: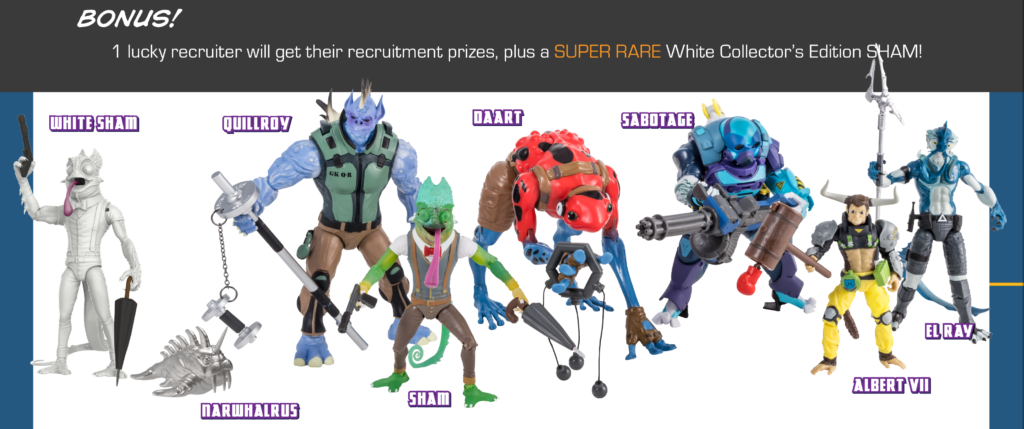 Agent Recruitment Contest
GK Delta urgently needs your help now! It's so urgent, that you'll be given bonus pay in the form of cool prizes. That's right! It's time for another CONTEST! We need more agents and in return for your help, we'll give you FREE STUFF!
Step 1: Get a parent's permission to go to www.AlterNation.toys/club
Step 2: Click the "Recruitment Form" link and print that form.
Step 3: BE SURE TO PUT YOUR FULL NAME AS THE RECRUITING AGENT NAME!
Step 4: Have the person you're recruiting fill out the rest. Be sure you have their consent.
Step 5: Drop this form in the mailbox so it's postmarked before the July 15, 2021 Deadline.
Prize Tiers:
Recruit 1 Agent: Get a personalized Thank You Letter from Commander Stone.
Recruit 3 Agents: Get a Free Narwhalrus.
Recruit 5 Agents: Get 1 Free Alter Nation Action Figure of your choice and Narwhalrus.
Recruit 10 Agents: Get 3 Free Alter Nation Action Figures of your choice and Narwhalrus.
Recruit 20 Agents: Get all 6 Alter Nation Action Figures and Narwhalrus.
BONUS!
1 lucky participant, who's recruited at least 1 agent, will get their recruitment prizes, plus a SUPER RARE White Collector's Edition SHAM!
Terms and Conditions
General. These terms and conditions apply to Panda Mony Toy Brands' 2021 Agent Recruitment Program ("Program"). By signing up to the Program, sending or accepting a referral, or otherwise participating in the Program, you agree to be bound by these terms and conditions, by Panda Mony Toy Brands' General Terms of Use and Privacy Policy (collectively, the "Program Terms and Conditions"). Panda Mony Toy Brands' General Terms of Use and Privacy Policy are available at: https://pandamony.toys/terms-of-use/ and https://pandamony.toys/privacy-policy/.
Program Participation. This Program is available only to persons residing in the United States or Canada. Internet access and a valid email address and valid shipping address are required to participate. The Program ends on the earlier of 11:59 pm Pacific Time on July 15, 2021 or the date on which all rewards have been earned (the "Program End Date"). Each person who initiates a referral is defined as a "Referrer". A person who receives a referral is defined as a "Referree".
Referrals.

To qualify as a Referrer or as a Referree, you must be a resident of the United States (fifty states and the District of Columbia) or Canada (provinces excluding Quebec); and have internet access and a valid email address.
To join the Program as a Referrer, you must have submitted Agent Auxiliary ("Fan Club") PDF application (available at https://pandamony.toys/alter-nation/club) and have it postmarked prior to 11:59 pm Pacific Time on June 15, 2021.
A Referrer will qualify for a Reward (described below) if qualified Referrees submit application by US Mail before the Program End Date. The Referree will not count toward earning the Reward if (a) the Referree leaves the "Referring Agent Name" field blank on the Referree's printable application. In addition, the Referree will not count toward earning the Reward if (b) the person was not qualified to be a Referree (e.g., did not agree to join) (c) the person already has been referred by someone else, (d) the person already is a Referrer, (e) the person signs up for the Program after the Program End Date, (f) the Referree resides at the same address as Referrer, or (g) any other violation of the Program Terms and Conditions occurs.
We reserve the right to void any referral and/or any Reward based on the following: (1) ineligibility of any Program participant, (2) fraudulent activity, or (3) if we, in our sole discretion, finds that you have violated any of the Program Terms and Conditions. The fact that we have provided contest promotional materials or allowed any person to sign up for the Program is not an admission that any person has complied with the Program Terms and Conditions.
El Ray Paintmaster Prototype Contest
El Ray Paintmaster Prototype Contest
Sham Paintmaster Prototype Contest
Sham Paintmaster Prototype Contest
2019 Narwhalrus Giveaway:
ALTER NATION REFERRAL PROGRAM
You can get a limited edition Alter Nation Narwhalrus figure just for referring your friends! Here's how the program works:
You and the people you refer must live in the United States or Canada (excluding Quebec) and be over 13 years old.
Sign up by going to https://www.pandamony.toys/alter-nation-news giving us your name, state, email address, and birthday. If you're already a subscriber the program will find your record and automatically enroll you in the giveaway.
Once we confirm your email address and eligibility, we'll send you a personalized link for this referral program to share with your friends. You can send the link only to people you know.
Once 5 people you refer sign up for our referral program using your link, we'll send you a limited edition Narwhalrus figure. The people you refer must sign up while the referral program is active. You'll need to respond to our notice with your address in the United States or Canada so we can ship the figure to you.
Our referral program ends on August 15, 2019 or when we run out of figures.
Each household can earn only one figure. You cannot refer yourself or the other members of your household. You and each person you refer must have different internet protocol addresses.
Each person who is referred counts only once for all referrers. If you refer someone who already has been referred or who hassigned up for the referral program, then that person will not count toward your 5 referrals. If you refer someone who signs up after the referral program ends, then that person will not count toward your 5 referrals.
Signing up for the referral program includes a sign up for our email newsletter. You can unsubscribe at any time using the link in the email newsletter.
The referral program is governed by the terms and conditions below.
TERMS AND CONDITIONS
General. These terms and conditions apply to Panda Mony Toy Brands' Alter Nation Referral Program ("Program"). By signing up to the Program, sending or accepting a referral, or otherwise participating in the Program, you agree to be bound by these terms and conditions, by Panda Mony Toy Brands' General Terms of Use and Privacy Policy (collectively, the "Program Terms and Conditions"). Panda Mony Toy Brands' General Terms of Use and Privacy Policy are available at: https://pandamony.toys/terms-of-use/ and https://pandamony.toys/privacy-policy/.
Program Participation. This Program is available only to persons residing in the United States or Canada who are 13 years of age or older. Internet access and a valid email address and valid shipping address are required to participate. The Program ends on the earlier of 11:59 pm Pacific Time on August 15, 2019 or the date on which all rewards have been earned (the "Program End Date"). Each person who initiates a referral is defined as a "Referrer". A person who receives a referral is defined as a "Referree".
Referrals.

To qualify as a Referrer or as a Referree, you must be at least 14 years of age; be a resident of the United States (fifty states and the District of Columbia) or Canada (provinces excluding Quebec); and have internet access and a valid email address.
To join the Program as a Referrer, you must sign up for the Program at https://pandamony.toys/alter-nation-news by providing your name, state or province of residence, email address and birthday, and agreeing to the Program's Terms and Conditions. In addition, when signing up for the Program you must use a web browser that allows us to identify and record the internet protocol address of the device you use to sign up for the program.
After we have confirmed your email address, we will send you a unique referral code for you to send to your friends. You must send the referral code only to people that you know. You cannot refer yourself, other members of your household, other Referrers, or people who already have received a referral code from a different Referrer.
A Referrer will qualify for a Reward (described below) if five (5) qualified Referrees use the Referrer's unique referral code to navigate to the Program's sign up web page and becomes a qualified Referrer by signing up for the Program before the Program End Date. The Referree will not count toward earning the Reward if (a) the Referree navigates to the sign up web page and does not sign up or (b) the Referree leaves the web page and later navigates back to it without using the Referrer's unique code. In addition, the Referree will not count toward earning the Reward if (c) the person was not qualified to be a Referree or a Referrer (e.g., is under 13 years of age), (d) the person already has been referred by someone else, (e) the person already is a Referrer, (f) the person signs up for the Program after the Program End Date, or (g) any other violation of the Program Terms and Conditions occurs.
We reserve the right to void any referral and/or any Reward based on the following: (1) ineligibility of any Program participant, (2) fraudulent activity, or (3) if we, in our sole discretion, finds that you have violated any of the Program Terms and Conditions. The fact that we have provided a unique referral code or allowed any person to sign up for the Program is not an admission that any person has complied with the Program Terms and Conditions.
Reward. As a Referrer, you can receive (1) one limited edition silver colored Alter Nation Narwhalrus figure with an approximate retail value of $5.99 (the "Reward). You will be notified if you have earned a Reward. To receive your Reward, you must respond to the notice and provide your mailing address. If you do not respond within 48 hours, your Reward will be forfeited. Only one Reward will be sent to each Referrer. Only one Reward will be sent to each household. Allow 4-6 weeks for delivery. Rewards are non-transferable, non-assignable, and cannot be redeemed or exchanged for cash, credit or other merchandise.
Tax. You are responsible for any and all tax liabilities associated with the Program.
Void Where Prohibited. This Program is void where prohibited by law.
Additional Terms and Conditions
We reserve the right to change the terms and conditions of the Program at any time, without notice, at our sole discretion. We reserve the right to not award a Reward or disqualify someone from the Program if we feel, in our sole discretion, that fraudulent behavior or other unethical conduct has occurred in any way that compromises the fairness of the Program in any way. Rewards cannot be combined with other promotions and are not valid for previous offers or referrals. Spam, unsolicited commercial email, or any form of illegal means of communication is illegal, prohibited, and will be grounds for termination of your participation in this Program. Fraudulent or unethical means of communication such as using bots, fictitious identities, fake emails, or scripts is also prohibited and will result in similar actions by us with respect to terminating your participation in the Program.
By participating in this Program, you agree to release and hold harmless us and our affiliates and subsidiaries, members, officers, employees, consultants, and agents, and any other entity associated with marketing this Program (collectively, the "Released Parties") from any and all claims or damages arising out of, or in connection with the Program. You further agree that the Program is provided "as is where is".
THERE ARE NO REPRESENTATIONS OR WARRANTIES INCLUDING BUT NOT LIMITED TO STATUTORY WARRANTIES AND CONDITIONS, WARRANTIES AND CONDITIONS OF MERCHANTABILITY, FITNESS FOR A PARTICULAR PURPOSE, THIRD PARTIES RIGHTS, AND NON-INFRINGEMENT OF PROPRIETARY RIGHTS. IN NO EVENT WILL EITHER PARTY BE LIABLE TO THE OTHER FOR ANY CONSEQUENTIAL, INCIDENTAL, OR SPECIAL DAMAGES, INCLUDING ANY LOST PROFITS OR LOST SAVINGS, EVEN IF ONE PARTY HAS BEEN ADVISED OF THE POSSIBILITY OF SUCH DAMAGES, OR FOR ANY CLAIM BY ANY THIRD PARTY. IN NO EVENT WILL OUR LIABILITY FOR ANY CLAIM UNDER ANY CAUSE OF ACTION OR THEORY OF LIABILITY ARISING FROM OR RELATING TO YOUR PARTICIPATION IN THE PROGRAM EXCEED THE APPROXIMATE RETAIL VALUE OF THE REWARD.
No transfer, cash redemption, or reward substitutions (or portion thereof) allowed, except at our sole discretion. In the unlikely event that any Reward is undeliverable for any reason we will award a substitute reward of equal or greater retail value. All referrals, Referrers and Referrees are subject to verification prior to awarding of Rewards. We will not replace any lost or stolen prize items once in your possession. The Released Parties shall not be liable to any person or for any failure to supply the Reward by reason of any acts of God, any action(s), regulation(s), order(s) or request(s) by any governmental or quasi-governmental entity (whether or not the action(s), regulations(s), order(s) or request(s) prove(s) to be invalid), equipment failure, terrorist acts, threatened terrorist acts, air raid, blackout, act of public enemy, earthquake, war (declared or undeclared), fire, flood, epidemic, explosion, unusually severe weather, hurricane, embargo, labor dispute or strike (whether legal or illegal) labor or material shortage, transportation interruption of any kind, work slow-down, civil disturbance, insurrection, riot, or any other cause beyond our sole control (collectively, "Force Majeure Event").
Use of any automated system to participate is prohibited and will result in disqualification. Incomplete, false or deceptive entries are void. By participating in the Program, you agree that if you earn a Reward you will provide your name, street address, phone number and email address for the purpose of confirming your eligibility and shipping the Reward. We are not responsible for interrupted or unavailable network, server or other connections, computer or software malfunctions or telephone transmission problems or technical failures, garbled transmissions, damage to a user's computer equipment (software or hardware) or other errors or malfunctions of any kind whether caused by computer viruses, worms or bugs, tampering, unauthorized intervention, fraud, equipment, programming used in this Program, mechanical, electronic or human error or otherwise, including but not limited to any failure by us or our vendor(s) to properly process your referrals or notify potential Reward recipients. In the event of a dispute as to any participation, the authorized account holder of the e-mail address used to enter the Program will be deemed to be the participant. The "authorized account holder" is the natural person assigned an e-mail address by an Internet access provider, online service provider or other organization responsible for assigning e-mail addresses for the domain associated with the submitted address. Potential Reward earners may be required to show proof of being the authorized account holder.