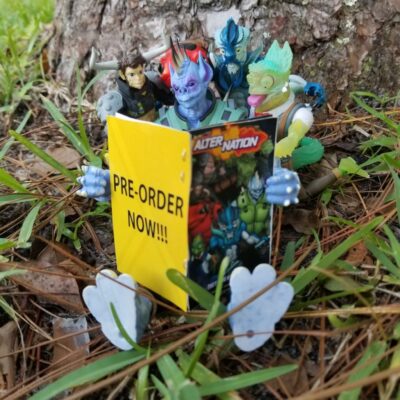 They Hide Hybrids Available for Preorder!
You can preorder the original graphic novel Alter Nation: They Hide Hybrids right now!
Tim Seeley and Mike Norton have come together again to create an original adventure for the GK Delta team. The best part? It takes place immediately following the action in the Alter Nation Webisodes! Here's what Dark Horse had to say:
Alter Nation: They Hide Hybrids follows a top-secret team of cryptid-heroes, GK Delta, who are committed to protecting humanity from extraordinary threats. When you and your team are all that stands between humanity and certain annihilation, you must be able to trust each other no matter what. So when a teammate betrays his brother's in arms, the team is forced to fight one of their own! What's worse, what if he was right to leave? The team must confront one of their worst enemies while grappling with the fact that they may not be the heroes they think they are!

Alter Nation: They Hide Hybrids is an all new 50-page graphic novel and includes the 12-page prequel comic Alter Nation: The Mystery of the Whining Winny. It will be in bookstores October 6, 2020. It is available for pre-order on Amazon, Barnes & Noble, TFAW, and at your local comic shop. Alter Nation: They Hide Hybrids will retail for $14.99.
So make sure to order your copy from your favorite book or comic book store today!