One Giveaway Down, Another Happening Now!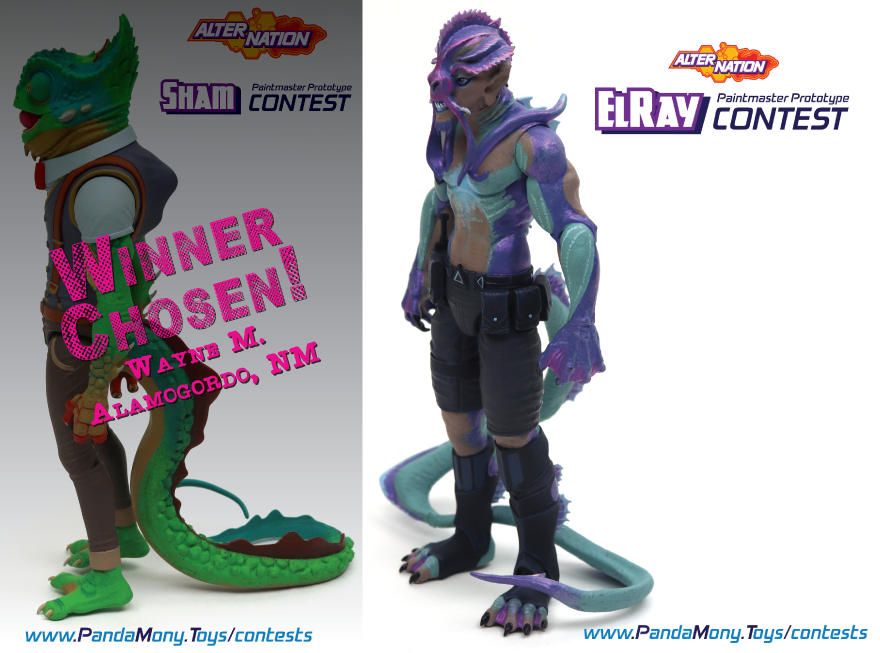 Congratulations to Wayne M. of Alamogordo, NM who won the Sham Paintmaster Prototype Contest. Are you bummed that you didn't win? Did you not know about it? (if so, you should check your emails from us more often.) Not to worry!
We're going to be continuing these contests throughout the summer leading up to our July Kickstarter!
And as a bonus?
Each contest you participate in gives you more chances to win later contests. In fact, we have a lot of ways you can earn more entries by helping us spread the word about Alter Nation.
This week, we're giving away the first paint concept we made of the GK Delta mission leader, El Ray. Known in the toy industry as a "paintmaster" prototype, this prototype action figure features iridescent paint and his original purple and gray paint concept. These paint operations were later simplified to make the figure more affordable when we produced the toy in mass, and colors the colors were changed from purple and gray, to the more familiar blue and white, based on fan feedback.
You have a great chance to win this, rare, hand-painted, one of a kind prototype toy, but only if you participate! Seriously, only like three guys are competing right now, and I think one did it by accident. Visit the contests pages now to enroll.
The Deadline to participate in this giveaway is June 24 at 11:59PM Central Time!