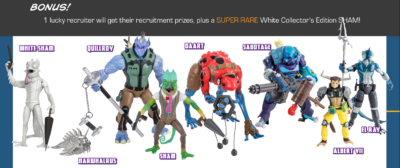 Agent Auxiliary Recruitment Contest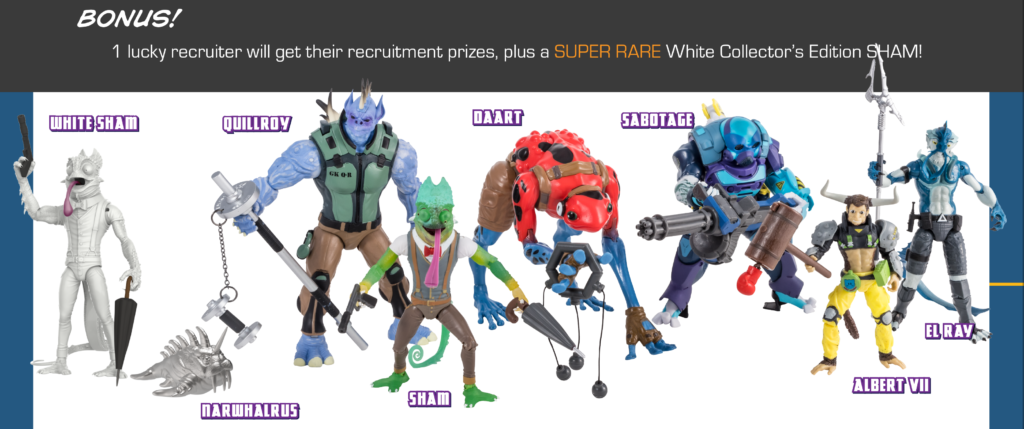 GK Delta urgently needs your help now! It's so urgent, that you'll be given bonus pay in the form of cool prizes. That's right! It's time for another CONTEST! We need more agents to join the Agent Auxiliary, the OFFICIAL Alter Nation Fan Club. In return for your help, we'll give you FREE STUFF!
Instructions:
Step 1: Get a parent's permission to go to www.AlterNation.toys/club
Step 2: Click the "Recruitment Form" link and print that form.
Step 3: BE SURE TO PUT YOUR FULL NAME AS THE RECRUITING AGENT NAME!
Step 4: Have the person you're recruiting fill out the rest. Be sure you have their consent.
Step 5: Drop this form in the mailbox so it's postmarked before the July 15, 2021 Deadline.
Prize Tiers:
Recruit 1 Agent: Get a personalized Thank You Letter from Commander Stone.
Recruit 3 Agents: Get a Free Narwhalrus.
Recruit 5 Agents: Get 1 Free Alter Nation Action Figure of your choice and Narwhalrus.
Recruit 10 Agents: Get 3 Free Alter Nation Action Figures of your choice and Narwhalrus.
Recruit 20 Agents: Get all 6 Alter Nation Action Figures and Narwhalrus.
BONUS!
1 lucky participant, who's recruited at least 1 agent, will get their recruitment prizes, plus a SUPER RARE White Collector's Edition SHAM!