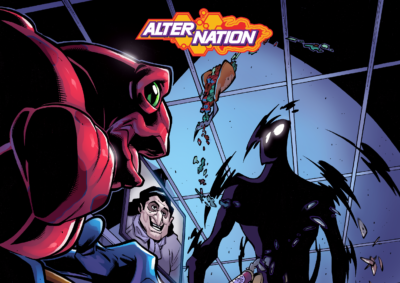 New Alter Nation Content
We're actively continuing our pursuit of an Alter Nation series and have veteran producer Aaron Simpson and screenwriter Adam Beechen attached and enthusiastic. It just might take a little time for us to convince Hollywood to catch up to kids' demands for things that aren't rebooted, obscure, brand from the 80's.
Nevertheless, we know you're looking for more Alter Nation stories, and we're delivering. Agent Auxiliary members have been receiving first access to illustrated short stories every month in the mail. This month, they were sent The Shadowman, a paranormal mystery uncovering the origin of a creature made of complete darkness. Next month, we're debuting It's Garbage. We'll be continuing to bring you these stories, so be sure you enlist in the official Alter Nation fan club, the Agent Auxiliary!
Not a member of the fan club yet? WHY NOT?! I JUST TOLD YOU TO JOIN!!! Well, if you need convincing, the stories are also available on the GK Delta Agent Portal, GKDelta.navy. The GK Delta Agent Portal is an Altered Reality Game experience for kids and adults, letting you explore the entire Alter Nation mythos in one place. Experience what it's like to hack the classified files of the military's mysterious, Generation Kymera project.